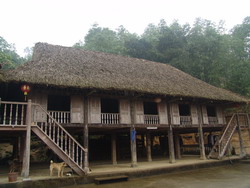 This trip to the northwest highlands of Mai Chau offers a balance of culture and adventure, set amongst some of northern Vietnam 's most stunning scenery. We spend 5 nights in ethnic minority villages, walking an average of 5 hours a day. We trek for four days through villages in the Mai Chau area and overnight in White Thai and Hmong villages where we have the opportunity to observe the lives of the minority peoples. From the mountainous region of Mai Chau, we travel back to the capital, Hanoi . Travelers who prefer to get off the beaten track often prefer Mai Chau to Sapa.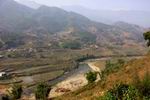 Combing a mix of adventure and culture in this multi-day trek suites those who have a little extra time, are willing to get a little dirty, and want to explore . We will travel South of Sapa along the inspiring Muong Hoa valley and mountain streams, visiting villages of Hmong, Zay, Dao and Tay ethnic minorities.
This trek can be difficult at times but is worth the effort as you will be taken off the beaten path, away from the crowds, and into the unspoiled Vietnam. Visit and stay with a Zay and Tay family and learn about village life. We promise that this trip will be unforgettable, educational, rewarding with a healthy dose of fun.



Ha Noi
Condition:Overcast
Temp: 73 °F| 23 °C
Ho Chi Minh
Condition:Scattered Clouds
Temp: 90 °F| 32 °C
Bach Long Vi
Condition:Mist
Temp: 79 °F| 26 °C
Da Nang
Condition:Scattered Clouds
Temp: 90 °F| 32 °C