North East and North west on bike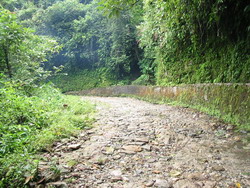 This trip offers a great opportunity to see the two area of outstanding nature beauty; the North east and North west . Biking is a great way to see this fascinating and visually stunning part of Vietnam, offering both physical activity and the unique opportunity to observe a way of life that has changed little over the centuries. As we ride in further to the North we encounter Muong, Hmong, Dzao and White Hmong minorities and are guests in their traditional houses..
| | | | | |
| --- | --- | --- | --- | --- |
| Package | 1 pax | 2-3 pax | 4-6 pax | Over 7 |
| Standard | $1985 | $1478 | $1214 | $1076 |
| Deluxe | On request | On request | On request | On request |
Day 1: Arrive in Hanoi

Airport pick up and transfer to central Hanoi. Free time to explore Hanoi old quarter while your guide unpack bike box and build up your bike. Short bike riding around the old quarter to make sure that your bike works well. O/N in Hanoi.

Day 2: Hanoi to Bac Can - Ba Be National Park ~54 km (B,L,D)

Morning transfer 4 hours from Hanoi to Thai Nguyen and up hill to Bac Can. We have lunch break in Bac Can, then transfer a bit more to Phu Thong where we start cycling off road 54 km to Ba Be national park. Villages of Tay and Thai on the opposite of the river. Make sure you turn left at Cho Ra junction market town and continue 17 km to Ba Be national park (alt. +240m). O/N BaBe national park guesthouse.

Day 3: Ba Be - Nguyen Binh - Tinh Tuc - Bao Lac ~60 km (B,L,D)

Morning bus excursion 1 hour to Ha Hieu, then we start cycling through forest of Mt. PiaOac to Nguyen Binh, this is a very old bumpy road through forest and many villages of the Tay people. Many mt. passes to go, the most challenge one is Phia Den +1200m. Late afternoon we have bus transfer to Bao Lac for the night. O/N Bao Lac People Committee GH.

Day 4: Bao Lac - Bac Me - Ha Giang ~80 km (B,L,D)

Good paved road along Gam river, very nice scenery between Bac Mieu and Bac Me. Picnic lunch en route. Late afternoon bus transfer to Ha Giang town (alt.+156m). O/N Khanh Huyen hotel.

Day 5: Ha Giang - Heaven gate pass - Hoang Su Phi ~60 km (B,L,D)

Morning transfer 1 hour by bus to Tan Quang (alt.+120m) where we turn right and start cycling up hill to the mountain again. Best mountain view today, challenge 60 km climb through 2 "heaven gates" pass to Hoang Su Phi town. First gate is 19 km climb to alt. +815m, then going little down, then climb up to second gate at alt. + 895m. Then start going down further 21 km to Hoang Su Phi town. O/N in Hoang Su Phi. (+460m) at Hoang Anh GH.

Day 6: Hoang Su Phi - Xin Man - Bac Ha ~100 km (B,L,D)

We climb up 5 km right outside the town, then continue 40 km along the Chay river to Xin Man, quite easy flat road. Please keep up with the main route, can take photos along the way, but do not turn into any village along this route. At the point 11km before Xin Man, there is a turn right sign 26 km to China border. After Xin Man town, we climb up 17 km to summit of alt.+1,460m, then continue 43 km up and down hill to Bac Ha. This is totally a new road - built on the former trail of the flower Hmong tribes. O/N in Sao Mai hotel in Bac Ha (alt.+920m)

Day 7: Saturday Market, Lao Cai - Sapa ~60 km (B,L,D)

An interesting day with shuttle bus to visit Can Cau Saturday market, see a market day for all tribes: Tay, Nung, Dao, Flower H'mong, Giay, PhuLa etc… Afternoon cycling down hill 20 km and onto Pac Ngam at highway 70. Bus pick up, transfer to Lao Cai town, then start climb up 35 km to Sapa town. (alt.+1,550m ). O/N in Sapa hotel.

Day 8: Sapa - Heaven gate - Tam Duong ~80 km (B,L,D)

Best mountain view today, about 1 hours up hill, with a stop over Silver waterfalls for relax before we conquer the highest mountain pass Oquiho (+2,010m). Then descending down the great panoramic view of Hoang Lien Son mt. range. Lunch en route. Nice villages of Hmong and "coins" Dao near Binh Lu. We take a dirt road 30 km through villages of Dzao and Lu tribe to Tam Duong. O/N at Phuong Thanh hotel in Tam Duong.(alt.+ 945m)

Day 9: Tam Duong - Paso - Lai Chau ~112 km (B,L,D)

Some part of the road is still in construction, but great view along Nam Na river. At point 8 km before Lai Chau, there is a turn right to Muong Te, keep on straight to Lai Chau. You will see the scenic Da river from Hang Tom suspension bridge before entering this small town. O/N in Lan Anh hotel in LaiChau. (+ 200 m)

Day 10: Lai Chau - Dien Bien. ~105 km (B,L,D)

A nice long day ride with stop over the Red H'mong village before climb up to Mathiho pass (alt.+895m), Huoi Chan pass, Co Chay pass (alt.+845m). O/N in Muong Thanh hotel in Dien Bien town (alt.+480m)

Day 11: Dien Bien - Tuan Giao ~80 km (B,L,D)

Bus sightseeing back to the former French battlefield: A1 hill, De Castries bunker etc... You will see some old US weapons here too. Then we have easy ride 80 km through many Thai villages to Tuan Giao (one climb mt. pass 15 km outside Dien Bien). O/N in People Committee GH in Tuan Giao (alt. +590m).

Day 12: Tuan Giao - Pha Din pass - Son La ~90 km (B,L,D)

Challenge 20 km winding climb up Pha Din pass (heaven and earth pass) to summit of +1450 m and 15 km down hill. Nice landscape of green rice fields and karst valley. Light traffic, wandering water buffaloes, Thai and Hmong kids. o/n Trade Union hotel.

Day 13: Son La - Mai Chau ~120 km (B,L,D)

Short transfer 1 hour to Yen Chau where we start riding down hill to Moc Chau. Stop over Xa Linh for visit a green Hmong village. Late afternoon arrive in Mai Chau. O/N homestay on stilt house of Thai tribe.

Day 14: Mai Chau - Hanoi (B,L,D)

Morning free at leisure promenade around Thai villages, shopping local handicraft etc...until lunch time. Afternoon departure for Hanoi. Farewell dinner in Hanoi. O/N Camellia hotel.
Day15: Hanoi- Airport (B)

Free until transfer to the airport to the next destination
Note: *Price is base on twin sharing accommodation. Single supplement is at extra cost


Inclusion:
* Support vehicle
* Mountain bikes
* Helmet & biking gloves
* English or French speaking guide
* Meals as indicated in the itinerary
* Hotel (twin shared room)
* Homestay permission
* First-aid kit
* Water & Snacks
* Entrance fees & Sightseeing fees

Exclusion:
* Travel insurance, all flights
* Visa
* Tips
* Personal expenses and other services