Ho Chi Minh trail on motorcycle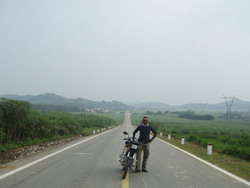 The legendary Ho Chi Minh Trail was the supply line used by North Vietnam to link North and South Vietnam during the American War. Soldiers, ammunition, weapons and supplies were carried by hand, on bicycle and truck for hundreds of kilometres through the otherwise impenetrable jungle that covered Vietnam's mountainous border with Laos. A ride along the former trail will bring you a deeper look of Vietnam's history and also its beauty.
Price is base on twin sharing accomodation. Single supplement is at extra cost
*
| | | | | |
| --- | --- | --- | --- | --- |
| Package | 1 pax | 2-3 pax | 4-6 pax | Over 7 |
| Standard | $985 | $750 | $591 | $512 |
| Deluxe | N/A | N/A | N/A | N/A |
Day 1: Hanoi - Phu Yen (165 km, ~6 hours riding)

Ride to Phu Yen on country road with a stop in Son Tay. On November 20-21, 1970, a joint force composed of USAF Special Operations and rescue personnel and U.S. Army Special Forces, supported by U.S. Navy Carrier Task Force 77, made a daring raid on the Son Tay prison camp located less than 50 miles from Hanoi. The objective was to rescue as many as 100 U.S. captives thought to be held there. The assault troops, in six ARRS helicopters accompanied by two C-130 aircraft, flew 640km to Son Tay from bases in Thailand. U.S. Navy pilots made a diversionary raid while 116 USAF and Navy aircraft from seven air bases and three aircraft carriers flew refueling, surface-to-air missile suppression, fighter cover, close air support, early warning, communications support and reconnaissance missions. There was no prisoners found in camp.

After lunch, ride on the winding mountain road to Phu Yen to take in some of the best mountain views in Northwest Vietnam and overnight in Hoang Gia Hotel.(L, D)

Day 2: Hanoi - Mai Chau (145 km, 5 hours riding)

There are many small roads that lead into the mountains around Mai Chau so we'll take the chance to ride out to isolated H'mong, Dao and Thai villages. We will take on the challenge of an old road built by the French army and spend the afternoon exploring nearby villages. Overnight in a Thai ethnicity stilt house in Mai Chau. (B, L, D)

Day 3: Mai Chau - Tan Ky (290 km, 9 hours riding)

Ride on a small, spectacular and paved trail along the Ma river until Cam Thuy town where we stop for lunch. Hit the Ho Chi Minh trail (now a newly built highway) all the way to Tan Ky town where we spend the night in a hotel. (B, L, D)

Day 4: Tan Ky - Phong Nha (280 km, 8 hours riding)

Ride on Ho Chi Minh Highway until Pho Chau where we stop to visit the HCM Trail victory monument which is in fact the real starting point of our HCM Trail ride.
Ride all the way to Phong Nha - Ke Bang, the biggest and also the most beautiful cave in Vietnam and Indochina and is now a UNESCO World Natural Heritage site. The karst formation of Phong Nha-Ke Bang National Park has evolved since the Paleozoic (some 400 million years ago) and so is the oldest major karst area in Asia. Subject to massive tectonic changes, the park's karst landscape is extremely complex with many geographic features of considerable significance. The vast area, extending to the border of the Lao People's Democratic Republic, contains spectacular formations including 65 km of caves and underground rivers. (B, L, D)

Day 5: Phong Nha - Dong Hoi (60 km, 2 hours riding)

Boating and exploring World Heritage site of Phong Nha where local civilians and military sheltered from incessant bombing during wartime. Then we drive down to the coastal town of Dong Hoi, which was heavily shelled by US warships during the war. At a hotel over looking the beach, we can take in some sunbathing by the beach. Overnight in Dong Hoi. (B, L, D)

Day 6: Dong Hoi - Khe Sanh (200 km, 6 hours riding)

We strike south through foothills which were once sprayed heavily by Agent Orange towards the former DMZ. There is still much evidence of bombing on the mountain sides and from time to time we will see remnants of the original Trail. We take in the Vinh Moc tunnel, the famous Hien Luong Bridge (former demarcation line between North and South Vietnam, the Truong Son Cemetery and finally Khe Sanh (former US Marine base). Overnight in Khe Sanh. (B, L, D)

Day 7: Khe Sanh - Hue (180 km, 7 hours riding)

In the morning we head south over the Da Krong Bridge (built by the Cubans in 1973) into the infamous A Shau valley, an area of intense wartime activity. Passing Hamburger Hill and mountains still barren due to the extended effects of Agent Orange, we arrive at A Luoi, where there are many Bru Van hill tribe people. Then, cruising through green back country down the steep Me Oi Pass, we continue on to the beautiful city of Hue which lies along the banks of the Perfume River. Overnight in Hue. (B, L, D)

Day 8: Hue - Hoi An (145 km, 5 hours riding)

See the Forbidden Citadel in the morning. Join the National Highway 1 and head up the Hai Van Pass (Cloudy Pass) before the World Heritage site of Hoi An, a major trading centre in SE Asia in the 16th and 17th centuries. Overnight in Hoi An. (B, L, D)

Day 9: Hoi An. Farewell lunch

Those who wish can ride up to China Beach, where US marines first landed, otherwise enjoy a free day to explore Hoi An by foot or by motorbike taxi. With fine wining and dining (including a range of Hoi An specialties), impressive architecture, fantastic tailoring, endless shopping, and a glorious beach, there is no shortage of activities to indulge in. After lunch, we will say goodbye and our guide flies back to Hanoi from Danang. (B, L)

Note: Extension tours to the south can be made upon request

INCLUDING
- Motorcycle(s), all fuel;
- Tour guide/Translator;
- Standard hotel and/or homestay (sleeping bags, mosquito nets, sheets, pillows...are provided);
- Third party motorbike insurance;
- All food;
- All entrance fees, permits, tickets, boat trips, ferries, bamboo rafts, etc;
- Green Trail Tours provides support. We are with you along the way;
- Vietnamese tea and rice wine.

NOT INCLUDING
- Personal expenses, personal medical insurance;
- Drinks other than tea and local rice wine;
- Motorbiking protective pants, jacket, gloves, helmet, rain gear and other safety equipment at favourable rental rate;
- Train or flight tickets;
- Breakfast on the departure day and dinner on the return day;
- Accommodation in Hanoi;
- Tips.