North West Ride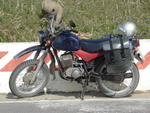 Traveling in the North West region of Vietnam is always a fantastic experience. Along the way you will encounter dramatic landscapes and sweeping panoramas; enjoy the unforgettable hospitality of the hill tribe groups; explore an incredibly beautiful area boasting waterfalls, high passes and terraced valleys. The highlight of the trip is a home stay with the White Thai people, the historic battlefield of Dien Bien Phu and the old, French hill station of Sapa.
| | | | | |
| --- | --- | --- | --- | --- |
| Package | 1 pax | 2-3 pax | 4-6 pax | Over 7 |
| Standard | $925 | $743 | $623 | $553 |
| Deluxe | N/A | N/A | N/A | N/A |
Price is base on twin sharing accommodation. Single supplement is at extra cost
*
Day 1: Hanoi - Mai Chau, ~160 km, ~5 hours, (L, D)

Leaving Hanoi on dyke roads to avoid the heavy traffic and breaking out of the delta plains we pass through endless limestone karst scenery as we travel south through "Perfume Pagoda" country and extensive farming lands comprising a sea of paddy fields split by tree-lined roads. Striking northwest and over two passes, finally dropping down to the mountain valley settlement of Mai Chau. Here we stay overnight with friends of the White Thai minority in a traditional stilt house. In the evening, after feasting, we can enjoy a cultural show of Thai dancing and a range of special local liquors. Overnight in Mai Chau.

Day 2: Mai Chau - Phu Yen. ~140 km, ~5 h (B, L, D)

We go from Mai Chau to the direction of Moc Chau and turn to the less travelled Road 43 leading to the Da River. After crossing the reservoir of Da river at Van Yen ferry, we ride on a beautiful winding secondary road until Phu Yen where we stay in a guest-house.

Day 3: Phu Yen - Son La, ~160 km, ~6 hours, (B, L, D)

Continuing on the almost empty Road 37 we enter mountains heavily populated with Black Thai people, who work on large terraced rice fields. The winding road passes through many Thai villages and fields and provides a great opportunity to watch country life passing by. We continue through rolling hills before rising up to the sugar cane growing areas on the cooler Son La plateau. Overnight in Son La.

Day 4: Son La - Tuan Giao, ~140 km, ~5 hours, (B, L, D)

Heading out northwest from Son La, the road crosses a series of mountain passes and areas of busy Black Thai activity. Children walk to school, kids tend buffaloes, women plant rice seedlings and men pull the buffalo. Then we come to the beginning of the very long and steep Pha Din pass where at the top we have vast views of the surrounding mountains, then down the other side on very steep sealed road. Overnight in Tuan Giao.

Northwest, North-West Vietnam ride with Offroad Vietnam Day 5: Tuan Giao - Muong Lay (former Lai Chau), ~150 km, ~5 hours, (B, L, D)

Heading out northwest from Tuan Giao the road passes isolated communities of Hmong and Thai people, whose small villages settle on the banks of dark green rivers and on the steep slopes of the mountains. After lunch by a forest stream the road begins to climb up the high Sa Tong pass. At the top for sunset before dropping sharply into the deep Lai Chau valley. Overnight in Muong Lay.

Day 6: Muong Lay - Sapa, ~250 km, ~9 hours, (B, L, D)

Lai Chau town lies on the floor of a very steep valley near the convergence of three river systems. Crossing a large suspension bridge over the Black river we head north along the eastern banks of the Nam Na river. Along this quiet road Hmong, Dao, Thai and Tay live in small villages backed up to the forest. Only a short distance from the Chinese frontier, the road climbs up to the Tam Duong plateau, with expansive views back toward the border. Tam Duong town has a lively market and is surrounded by sharp outcrops of karst.

After lunch in Lai Chau (former Tam Duong) we head straight toward the main Fansipan Mountain range. There is also the option for a very challenging back route which takes us through several river crossings. The massive mountain range dominates the road until finally we must make a splendid climb up from Binh Lu and up to the top of the highest road pass in Vietnam (Tram Ton Pass). Crossing into Lao Cai Province at over 2,000m the views looks out over the main range for miles and miles, before we descend to the mountainous Sa Pa valley. Overnight in Sapa.

Day 7: Sapa, (B, L, D)

Depending on the group's mood, we can either take it easy in Sa Pa town, or make excursions back to the top of the highest pass in Vietnam, or down deep into the amazing Sapa valley. All options are dominated by the crest of the enormous Fansipan mountain range that looms over 2,000 metres above us. The entire region is populated by Hmong, Giay, Tay and Dao people. Stay in Sapa.

Day 8: Sapa - Luc Yen, ~180 km, ~6 hours, (B, L, D)

Ride down from Sapa and then through palm forest all the way to Luc Yen and stay in a Dao family who live in the Tay territory. It's a great home stay, very typical of Vietnam hill tribes and the hosts are very welcoming. Overnight in Luc yen

Day 9: Luc Yen - Vu Linh, ~80 km, ~3 hours, (B, L, D)

Explore the Luc Yen area and visit our friends' families before riding to our Dao friends' village of Vu Linh. The hosts are "drinkers of Vietnam" and they like to party. The welcome is exceptional and we hope you will not be too much tired.

Day 10: Vu Linh - Hanoi, ~180 km, ~6 hours, (B, L)

After breakfast we cruise southeast on Highway 2 and then branch off to the sleepy town of Phu Tho. We follow the edge of the Red River along the dyke, almost to the point where it merges with the Black River after which they flow together to Hanoi. By now we are very much in the lowlands of the delta plains and the north's main agricultural areas. Harvest time here is a sea of activity. Crossing the Black River by bridge, we pass through Son Tay and then return to Hanoi on the highway.


Including:
- Motorcycle(s), all fuel;
- Tour guide/Translator;
- Standard hotel and/or home stay (sleeping bags, mosquito nets, sheets, pillows...are provided);
- Third party motorbike insurance;
- All food;
- All entrance fees, permits, tickets, boat trips, ferries, bamboo rafts, etc;
- Travel agent provides support. We are with you along the way;
- Vietnamese tea and rice wine.

Not including:
- Personal expenses, personal medical insurance;
- Drinks other than tea and local rice wine;
- Motor biking protective pants, jacket, gloves, helmet, rain gear and other safety equipment at favorable rental rate;
- Train or flight tickets;
- Breakfast on the departure day and dinner on the return day;
- Accommodation in Hanoi;
- Tips.