Ride on rocky plateau Ha Giang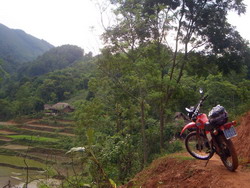 This tour offers you an unique look in to one of the most beautiful places in the North of Vietnam. HaGiang is well known not just for its own beauty but also interesting weekly markets with colorful traditional outfit, worn by local people. A ride through winding roads in Ha Giang with its spectacular view will be unforgetable
Price is base on twin sharing. Single supplement is at extra cost

*
| | | | | |
| --- | --- | --- | --- | --- |
| Package | 1 pax | 2-3 pax | 4-6 pax | Over 7 |
| Standard | $817 | $607 | $541 | $487 |
| Deluxe | N/A | N/A | N/A | N/A |
Day 1: Hanoi - Vu Linh (App 180 km). L, D

Before the ride, it takes 30 minutes to double check the bikes and insure that we have all necessary tools and equipment to guarantee maximum fun. Then another 30 minutes for finalizing paperwork and riding gear. Easy ride to on the sealed road to Thac Ba Lake and follow the little road and track to Vu Linh. Vu Linh is a Dzao village by the side of the lake, very friendly people and the welcome is exceptional. Superb work of wood! The houses are superb. In addition, the exceptional greeting and local rice from the hosts are surely the highlights of the night.

Day 2: Vu Linh - Ha Giang (170 km, ). B, L, D

After breakfast, ride to Yen The in about 2 hours around the lake on small road lined by palm trees and scenic mountain views. Then sealed road all the way to Ha Giang, where we stop for the night.

Day 3: Ha Giang - Quan Ba (50 km). B, L, D

ToursWe need the whole morning for getting the permit to ride in border areas. Short ride but this one will set the tone for the next few days. The challenge begins as soon as we leave Ha Giang town and enter the land of colorful mountain hill-tribes and stunning mountain landscapes. Karsts rise straight up perpendicular to the valley bellow and hill-tribe people will be smiling and waving you as you pass by. Overnight in Quan Ba

Day 4: Quan Ba - Yen Minh - Meo Vac (100 km). B, L, D

Some of the most beautiful landscapes of the entire trip. Get your camera(s) ready! This triangular is one of the most scenic places in North Vietnam. You can have your own words about the landscape, no more comments!Ha Giang Motorcycle Vacation, Ha Giang Motorbike expedition We will meet the ethnic minorities when visiting traditional homes. After lunch in Yen Minh, we wind our way up a nearby pass and then descending into the Meo Vac valley, very close to the Chinese border, for dinner and overnight.

Day 5: Meo Vac - Dong Van (60 km). B, L, D

Head up the Ma Pi Leng Pass. Here is yet another amazing place, with cloudy mountain ranges and the poetic Nho Que river winding off in the distance. Ride on a zig-zag track until Dong Van, a remote area and meet the hard working local people here. It is inspiring to see how they survive as they manage live in the rocks. When we reach town we will have some extra time to wonder the ancient streets lined with H'mong homes of clay bricks and tiles roofs built centuries ago.

Day 6: Dong Van - Yen Minh - Quan Ba (110 km). B, L, D

We ride back! No road to continue from Dong Van down. We ride slowly from Dong Van to Quan Ba. Stop at the infamous Vuong Palace, where a Hmong family of high rank backed up by the French government. This palace attracts keen interest from architecturally minded visitors due to it's mixed style of European and Chinese architecture. We then hop back on the bikes and back to Quan Ba for our night.

Day 7: Quan Ba - Ha Giang - Hoang Su Phi (130 km). B, L, D

Ride back to Ha Giang, then Bac Quang. The ride is a pleasant one with countless meandering turns and winding sections on our way to Hoang Su Phi. This is your own trip and we encourage you to stop as many times as you wish to meet local people or to take those "once in a lifetime photographs".

Day 8: Hoang Su Phi - Xin Man - Bac Ha (70 km). B, L, D

Real challenging ride on tortuous roadways. More picturesque Vietnam countryside and landscapes, as well as meeting and talking with local ethnic families.The second half of this drive is much easier but be warned not to ride ahead of our guide as you are likely to get lost in the dense forest. Arrive in the town of Bac Ha, dinner and sleep in town.

Day 9: Bac Ha - Song Thao (230 km). B, L, D

Long stage but on easy road. Beautiful landscape. Valley of wax-tree, native land of lacquer makers in Vietnam.Song Thao is a very small village lost in the hills on west bank of Black river. The particular thing is that this is the place where we grow lacquer trees to collect the precious substance called lacquer.Ha Giang motorcycle expedition We are welcome in the house of our friends. You meet Kinh (ethnic Vietnamese). We propose to stay in the house of the two "uncles", direct descendant of the ancestor who discovered the property of this tree and the way to use it, about four hundreds years ago (quite recently compared to China who knew about lacquer few thousands years ago).

Day 10: Song Thao - Hanoi (150 km). B, L

Ride back to Hanoi via Son Tay in 5 hours. There is a possibility to ride along Red River. We estimate that you will arrive in Hanoi early in the afternoon, before the rush hour.
Inclusion:
* Bike and fuel
* Helmet & biking gloves
* English or French speaking guide
* Meals as indicated in the itinerary
* Hotel (twin shared room)
* Homestay permission
* First-aid kit
* Water & Snacks
* Entrance fees & Sightseeing fees

Exclusion:
* Travel insurance
* Visa
* Tips
* Personal expenses