North East Ride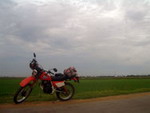 Discover Vietnam's rugged and scenic northeast and its people first hand. By taking to the roads and riding from the capital Hanoi to the remote area of the northwest we can see life as it truly is for the Vietnamese. The perfect itinerary and the support crew ensure you get the most out of the trip in terms of comfort, enjoyment and adventure. Along the way we encounter dramatic landscapes and sweeping panoramas as the rural population goes about its business. Highlights include the terraced valleys of Sapa, challenging roads, stunning scenery and many different colorful minority groups.
Price
is base on twin sharing accommodation. Single supplement is at extra cost
*
| | | | | |
| --- | --- | --- | --- | --- |
| Package | 1 pax | 2-3 pax | 4-6 pax | Over 7 |
| Standard | $621 | $495 | $412 | $385 |
| Deluxe | N/A | N/A | N/A | N/A |

Day 1: Hanoi - Mau Son, ~180 km, ~5 hours, (L, D)

After a hearty breakfast we saddle up and make the break out of the city limits and the lowlands and plains of the Red River Delta. We pass through clusters of limestone as we head out north-east before leaving the main road and climb up to the peak of Mau Son mountain. An old French hill station, Mau Son was ravaged during war with the Chinese and the buildings have recently been rebuilt in traditional style. A winding road leads us to the summit and at over 1,500 metres altitude we enjoy fantastic views out over China and down towards Ha Long Bay. Overnight in Mau Son.

Day 2: Mau Son - Cao Bang, ~200 km, ~7 hours, (B, L, D)

Dropping down from the heights of Mau Son we strike directly north, skirting the border city of Lang Son, visiting the Dong Dang 'Friendship Gate' on the Chinese border, then we join the legendary 'Highway 4' where the Viet Minh forces carried out numerous raids over uncountable passes in this remote border region. We follow the border all the way to Vietnam's major city in the north-east: Cao Bang (literal translation: 'High Plateau'). Overnight in Cao Bang.

* Cao Bang: At 300 kilometres north of Hanoi, Cao Bang is used as a base camp for all our expeditions to destinations close to the Chinese border. The region north of Cao Bang is dominated by limestone. Hence its scenery is similar to that of Ha Long Bay or Guilin (China) and offers unprecedented driving enjoyment amongst some of the most spectacular surroundings in Vietnam.

Day 3: Cao Bang, ~120 km, ~3 hours, (B, L, D)

We explore into the magical region of the far north-east with its impressive limestone karst scenery. We meander around and through the countless rock monoliths all the way to the huge Ban Gioc Waterfall which sits on the Chinese border. We can swim under the falls and picnic on bamboo rafts. Then in the afternoon we loop back to Cao Bang past even more spectacular karst scenery. Overnight in Cao Bang.

* Ban Gioc Waterfall: In this closed off region, where thousands of limestone monoliths loom high above paddy fields tended by Nung, Tay and Green Hmong peoples, you will find sealed, winding roads which make for excellent driving. The entire area rewards those willing to take the time to explore and share life with its people.

Day 4: Cao Bang, ~120 km, ~4 hours, (B, L, D)

In the morning we strike north-west to the border, marked by a massive range of peaks, and pass over to Pac Po Cave where Ho Chi Minh made his return to Vietnam in 1941. Then we head straight up on challenging road, pass through deep, remote karst country and rest at a secluded lake deep in the forest. Late afternoon ride on sealed road back to Cao Bang and a soothing massage. Overnight in Cao Bang.

* Pac Bo Cave: North-West of Cao Bang and right up along the border with China, the cave is well known for having been the first refuge of Ho Chi Minh on his return to Vietnam in 1941. At the point where the famous Lenin Stream cascades down a waterfall from China, we will continue by foot to penetrate into the mystery of Vietnam's Independence Movement and its surrounding jungle.

Day 5: Cao Bang - Ba Be, ~180 km, ~7 hours, (B, L, D)

We move south-west from Cao Bang and breach several passes on route in an area hosting huge mountain scenery. The Cao Bac Pass offers breathtaking views of the surrounding countryside. Descending the pass we see hillsides carpeted with apiaries, Vietnam's most famous honey-producing areas. In the afternoon we arrive at Ba Be Lake in the heart of a National Park. Overnight with a family in a Tay minority stilt house on the shores of the lake.

* Ba Be Lake: This pristine mountain lake, arguably Vietnam's most beautiful lake, is situated 240 kilometres north of Hanoi. Surrounded by primary jungle and limestone cliffs, the surrounding areas are inhabited principally by Thai and Hmong peoples.

Day 6: Ba Be, boating, (B, L, D)

A day to explore at Ba Be Lake, take in some markets, enjoy a boat cruise, go fishing, explore caves, dine with friends at the edge of a waterfall, enjoy the hospitality of the minority peoples who inhabit this area. We will take a boat up the seven-kilometre length of the lake to the Dau Dang waterfalls on the Gam River and also visit the 300m Long Phuong Cave. During the war the cave was one of the rare natural shelters for the local population hiding from the bombing. Overnight with a family in a Tay minority stilt house on the shores of the lake.

Day 7: Ba Be - Hanoi, ~240 km, ~8 hours, (B, L)

Staying off the main road for as long as possible we head back towards the Red River Delta, passing through areas inhabited by Hmong, Dao, Tay and Nung minority peoples. A mixture of both challenging track and glorious sealed road all the way back to Hanoi.
Including:
- Motorcycle(s), all fuel;
- Tour guide/Translator;
- Standard hotel and/or home stay (sleeping bags, mosquito nets, sheets, pillows...are provided);
- Third party motorbike insurance;
- All food;
- All entrance fees, permits, tickets, boat trips, ferries, bamboo rafts, etc;
- Off road Vietnam® provides support. We are with you along the way;
- Vietnamese tea and rice wine.

Not including:
- Personal expenses, personal medical insurance;
- Drinks other than tea and local rice wine;
- Motor biking protective pants, jacket, gloves, helmet, rain gear and other safety equipment at favorable rental rate;
- Train or flight tickets;
- Breakfast on the departure day and dinner on the return day;
- Accommodation in Hanoi;
- Tips.
NOTE:
B: Breakfast.
L: Lunch.
D: Dinner.