Vietnam Transportation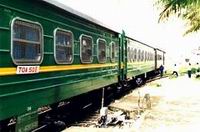 Except for flying, transport is slow. See local info for details.
National Transport
Except for flying, transport is slow. See local info for details.
AIR: 2-tier Vietnamese/foreigners' price system. Foreigners' price is very expensive.
Ho Chi Minh - Hanoi: - OW $136 RT$261
Daily flights between major cities. Tickets can be bought from travel agents (com. $2)
Train: 2-tier price system.
Foreigners' price. (rip-off price). 3 or 4 trains/day. Duration and price depends on the train. Tickets can be paid with Dong Ho Chi Minh to Hanoi takes about 48 hours on local train. Reunification Express takes 36 hours. The ticket price includes some food.
Hard seats: Wooden seats. Very uncomfortable on long journeys.
Soft seats: Padding. More comfortable. Tall westerners will find them a bit tight.
Hard berth: Wooden beds with just a slight touch of padding, 6-person compartments.
Soft berth: Very comfortable but expensive. 4-person compartments. Some trains have A/C, but don't count on it.
Reservation necessary. Recommended to reserve 2 or 3 days in advance. Tickets sold at train-station booking office (Hanoi and HCM station have the special counters for foreigners.) and travel agents (com $1-2) Travel agents can sometimes still secure tickets even when the station tells you that they are sold out.
Bus
Usually same price for locals and foreigners. Cheapest transport. Many buses leave very early in the morning (5:00 or 6:00).Long distance bus terminals are located far from town centers. You may have to rely on a cyclo to get there. Buses are very old and usually crowded. It is very common to see broken down buses on the roads. You can reserve a bus but not a seat. If you pay about double you may be able to secure a seat. Tickets can be bought at terminal. usually open from 4:00 to 17:00. No English understood.
Tourist bus/Mini bus
Tourist buses connect major cities Relatively new service, pickup service possible, sometimes have A/C. Very convenient. They take breaks on route, stopping at tourist spots. On arrival, they will stop at various hotels for you, but the hotels are all government-run and may be more expensive. Much more expensive than public bus, but cheaper than train (soft seats). Tickets sold at tourist cafes, Travel Agencies, GH's up until the night before the journey.
Local Transport
Local Bus
Buses usually leave when full. City-bus system is not usually useful, except in Ho Chi Minh.
Taxis
! Attention: To use Taxi or cyclo, its advised to write down the directions, and the agreed-upon price, to avoid confusion.
Metered taxis are available in Hanoi & Ho Chi Minh City. The cost varies. First 2km12,000D, add 1,600D/250m. Check that the meter is operating. Pay in Dong. The taxis, hanging around the tourist areas, sometime change the setting of the meter. So try to get a taxi running on street.
Cyclo
3-wheeled bicycle-rickshaw. Passengers sit in front and driver peddles behind. Great views, though scary. Bargain hard. Some drivers demand more money later. They are very aggressive. If you can't handle, this don't use them. Write the address and agreed price on paper. Same price for two people. $1-2/hr
Motor Bike Taxi
Costs the same to ones of cyclo.
Bicycle Rental
8-12,000D/day Deposit may be required($20). Available from Cafes or GH's. Check the brakes & tires before you set off.
Motorbike Rental
$5-10/day. They often hold your passport as a deposit and want you to sign a form. Get a translation of the form in a language that you understand. Available from cafes or hotels. Ask your own hotel to give you a good rate. Check brakes, tires, and gas before you set off. Don't ride in the larger cities unless you already know how.



Ha Noi
Condition:Overcast
Temp: 73 °F| 23 °C
Ho Chi Minh
Condition:Scattered Clouds
Temp: 90 °F| 32 °C
Bach Long Vi
Condition:Mist
Temp: 79 °F| 26 °C
Da Nang
Condition:Scattered Clouds
Temp: 90 °F| 32 °C