HCM City to probe golf courses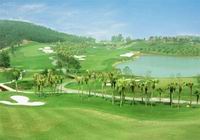 The city will check the licences of golf course projects to appraise the results of these projects and to serve its planning task.

According to the city's report to the Ministry of Planning and Investment, any project that doesn't meet conditions and standards will be fined or have its investment licence revoked.

The first two golf courses to be inspected are Rach Chiec and Sing – Viet.

Rach Chiec golf course project is located in District 2. It is invested in by the Saigon Investment and Development Joint Stock Company. Sing – Viet golf course is in Lang Le, Binh Chanh district, and is being developed by the Sing – Viet Urban Co, Ltd.

HCM City has an operational golf course in District 9, Hoa – Viet. The city has licenced five other golf course projects and two other projects are awaiting licences.

The city plans to have 13 golf courses.





Ha Noi
Condition:Overcast
Temp: 73 °F| 23 °C
Ho Chi Minh
Condition:Scattered Clouds
Temp: 90 °F| 32 °C
Bach Long Vi
Condition:Mist
Temp: 79 °F| 26 °C
Da Nang
Condition:Scattered Clouds
Temp: 90 °F| 32 °C