Cat Tien Archeological Vestiges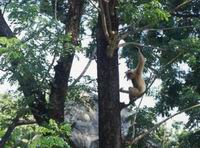 In Quang Ngai Commune of Cat Tien District there is a cluster of interesting archeological sites. To get there from Ho Chi Minh City, follow National Road No. 20 to the T-junction named Nga Ba Madagui, then turn left and follow the provincial road No. 721 for 35 kilometers, and there you are.
This archeological site is also important for Southeast Asian Studies. It was first discovered in 1985 and has gone through three excavations. You'll see several temples and tower-shaped graves belonging to an extinct kingdom. Although this kingdom ended 13-14 centuries ago, its remains reveal alot about the existence and the disappearance of this mysterious kingdom.

The largest vestige area on this site is the Doc Khi (go 1A) Temple. It is located on the highest hill of the site and faces east. Archeologists have found Linga and Yoni statues in this tower-shaped temple-believed to be large votive objects reflecting the harmony of yin and yang.

Locals are known to fetch water at the temple and pour it over the two statues to pray for a pregnancy. If a girt is desired, the worshippers placed their hands on Yoni; if a boy is desired, they touch Linga. Afterwards, they drink some water that flows on Yoni to fulfill their wish.

Near 1A Temple are some smaller temples. One of most beautiful ones is located close to the river and is surrounded by a wall.

Since 2001, Da Lat Tourist has organized tours to this site. In 1997, the Cat Tien Vestige Site was recognized by the Ministry of Culture and Information as a National Vestige Site.



Ha Noi
Condition:Overcast
Temp: 73 °F| 23 °C
Ho Chi Minh
Condition:Scattered Clouds
Temp: 90 °F| 32 °C
Bach Long Vi
Condition:Mist
Temp: 79 °F| 26 °C
Da Nang
Condition:Scattered Clouds
Temp: 90 °F| 32 °C