Valley of Love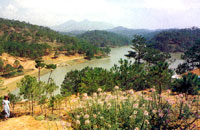 The beauty of the valley has become more poetic and seductive for travelers and lovers.
About 5 km from Dalat's centre to the North, the Valley of Love is ringed by hilly slopes covered with pines. Under King Bao Dai, the valley was called Hoa Binh (Peace). In 1972, Da Thien Lake was crated in the valley and thanks to this enhancement, has attracted countles visitors and, of course, lovers.

Visitors can hire a boat to appreciate the lake or riding horse rented by cowboy-dressed guide along paths around the area.



Ha Noi
Condition:Overcast
Temp: 73 °F| 23 °C
Ho Chi Minh
Condition:Scattered Clouds
Temp: 90 °F| 32 °C
Bach Long Vi
Condition:Mist
Temp: 79 °F| 26 °C
Da Nang
Condition:Scattered Clouds
Temp: 90 °F| 32 °C