HONDA DIRT BIKE XL 125S/SE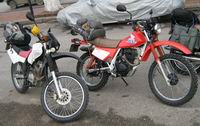 A good, well maintained dirt (trail) bike is the cornerstone of every enjoyable enduro tour.

As always, this is a compromise between bike purchasing cost (we're not sponsored by any motorcycle company - the touring business here is too small to be attractive for any bike manufacturer), bike operating cost, availability of spare parts, reliability and the "fun factor" of the bikes.

Considering all this, we purchased four-stroke Honda XL 125, which are fairly lightweight, durable, and a barrel of fun.

Made in 2000, Honda XL 125s 4-stroke, 125 cc is a real motocross for Vietnamese mountain roads where power means nothing as roads are small and have many blind curves.
Number of seats: 2
Country of origin: Japan
Engine displacement: 125cc
Cylinder: 01
Engine power (hp/rpm): 13/9,500
Starter: Kick
Engine type: OHC, air-cooled
Stroke cycle: 04
Compression ratio: 9.4:1
Speed: 06
Ignition: CDI
Fuel Consuming: 51,4 km/liter speed 50 km/hour (standard gasoline)
Clutch: Manual, Wet Type, & Double Clutch
System (volt.): 12V
Front brake: Drum
Rear brake: Drum
Front tyre: 2.75-21-PR
Rear tyre: 4.1-18-4PR
Front suspension: Telescopic fork
Rear suspension: Swing arm w. sh. abs
Fuel tank capacity (l): 07
Ground clearance (mm): 265
Height (mm): 1,110
Length (mm): 2,080
Curb weight (kg): 104
Seat height (mm): 820
Wheel base (mm): 1,310



Ha Noi
Condition:Overcast
Temp: 73 °F| 23 °C
Ho Chi Minh
Condition:Scattered Clouds
Temp: 90 °F| 32 °C
Bach Long Vi
Condition:Mist
Temp: 79 °F| 26 °C
Da Nang
Condition:Scattered Clouds
Temp: 90 °F| 32 °C