HONDA XR BAJA 250cc & DEGREE 250cc ENDURO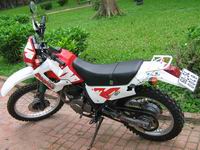 It really is a confidence inspiring bike to ride. It's easy to get seen by car drivers because of it's height and bright single (XR), it also makes for excellent visibility. It goes round corners better than most of bikes available in Vietnam - faster, more lean angle and really easy to flick side to side.
Made in 1998, Honda XR Baja 4-stroke, 250cc is a true motocross for Vietnamese off-road ridings where power is what you need to get over dirt roads. However, this bike is ideal for riders from 1.85m and experienced bikers.
Made in 1994, Honda Degree is liquid cooled with 250cc single cylinder. It's a bit lower than Honda XR and ideal for riders below 1.8m, especially for women. As it's lighter, it's very easy to ride this bike and you don't need to be very experienced.
Today, the minimum a serious long distance traveller would use is around 650cc, however most travellers are riding from 750 to 1200 cc bikes, preferably shaft driven. (BMW is far the most popular bike followed by Honda Transalp and Africa twins, Kawasaki and Yamaha 650 and 750 Enduro's etc). During the 70's most of the trips were done on 250 cc bikes. At that time the Yamaha XT250 and Honda XL were the most popular bikes. However, Vietnamese speed limit is from 25 to 80km/hour, therefore we found out that 250cc is the maximum our riders need for a great trip at reasonable price.
Number of seats: 2
Country of origin: Japan
Engine displacement: 249 cc, air/oil cooled or liquid cooled, 4-stroke
Cylinder: 01
Engine power (hp/rpm): 28 hp (20.9 kW) @ 8000 rpm
Starter: Electronic
Engine type: OHC, 4 valves per cylinder
Stroke cycle: 04
Compression ratio: 9.3:1
Speed: 06
Ignition: CDI type battery ignition
Fuel Consuming: 22 km/liter speed 50 km/hour (standard gasoline)
Clutch: Manual, wet multiple plate coil springs
System (volt.): 12V
Front brake: Disc
Rear brake: Disc
Front tyre: 3.00-21-PR
Rear tyre: 4.1 or 4.5-18-4PR
Front suspension: Telescopic fork
Rear suspension: Monoshock
Fuel tank capacity (l): 14
Ground clearance (mm): 310
Height (mm): 1,220
Length (mm): 2,140
Curb weight (kg): 119
Seat height (mm): 860
Wheel base (mm): 1,420



Ha Noi
Condition:Overcast
Temp: 73 °F| 23 °C
Ho Chi Minh
Condition:Scattered Clouds
Temp: 90 °F| 32 °C
Bach Long Vi
Condition:Mist
Temp: 79 °F| 26 °C
Da Nang
Condition:Scattered Clouds
Temp: 90 °F| 32 °C